What you need to know about Fused Silica Domes
Nov. 27, 2019
As a Silicon Domes Manufacturer, I have some information to share with you. The formation of quartz glass is a result of its high melt viscosity at high temperatures. Used in the manufacture of semiconductors, electric light sources, semiconductor communication devices, lasers, optical instruments, laboratory instruments, electrical equipment, medical equipment and high temperature and corrosion-resistant chemical instruments, chemical, electronics, metallurgy, building materials and defense industries very extensive. High-purity quartz glass can make optical fiber.
With the development of semiconductor technology, quartz glass is widely used in various processes of semiconductor production. For example, the direct-draw the method converts polycrystals into single-crystal silicon; cleaning tanks for cleaning; diffusion tubes and grooved boats for diffusion; bell jars for ion implantation; and so on.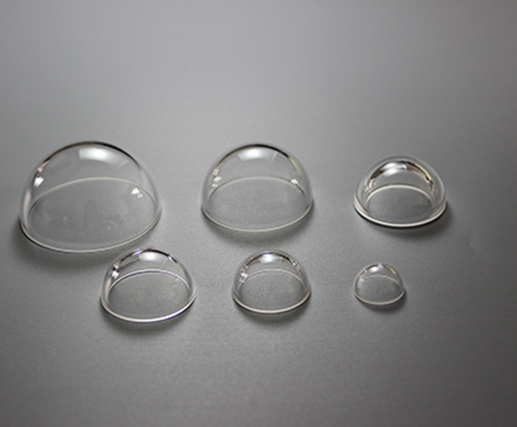 Fused Silica Domes
Quartz glass is a special glass containing only a single component of silicon dioxide. Due to the differences in types, processes, and raw materials, foreign countries often call them silicate glass, quartz glass, Fused Silica Domes, fused quartz, synthetic fused silica, and transparent, translucent, and opaque quartz without clear concepts. China is collectively referred to as quartz glass, which is classified according to process methods, uses, and appearances, such as fused transparent quartz glass, continuous fused quartz glass, gas-refined transparent quartz glass, synthetic quartz glass, opaque quartz glass, optical quartz glass, and quartz glass for semiconductors. Quartz glass for an electric light source. People are used to naming this material with a simple term such as "quartz", which is absolutely inappropriate, because "quartz" is a general term for the crystalline state of silica, and it has physical and chemical properties with glassy silica. There is a difference.
Quartz glass has extremely low thermal expansion coefficient, high temperature resistance, excellent chemical stability, excellent electrical insulation, low and stable ultrasonic retardation performance, the best UV transmission performance, and visible and near-infrared transmission. Performance, and has higher mechanical properties than ordinary glass. Therefore, it is one of the indispensable excellent materials in space technology, the atomic energy industry, national defense equipment, automation the system, and semiconductor, metallurgy, chemical industry, electric light source, communication, light industry, building materials and other industries in modern cutting-edge technology.
Quartz glass is made of natural crystalline quartz (crystal or pure silica) or synthetic silane and melted at high temperatures. The melted product has excellent processing performance. Within its high viscosity range, tubes and rods can be hot-processed like ordinary glasswork, and high-speed machinery can also be made with diamond or silicon carbide abrasive tools. Processing to make various complex shapes of instruments and special products. The performance of quartz glass mainly depends on its purity, followed by the processor thermal system. The presence of trace impurities will have a significant impact on the performance of quartz glass; at the same time, due to the slight negligence of the processor thermal system, it will bring a variety of defects to the appearance quality, resulting in a large number of waste products. We also have Cutting Blank Material on sale, welcome everyone to come to consult.