Benefits and Uses of Sapphire Optical Windows
Feb. 18, 2022
Windows play an important role in optical systems, both in terms of maximizing transmission and minimizing reflections, and in everything that protects optical systems and electronic sensors from the environment.
When environmental conditions are too harsh, optical windows require improved performance, which means choosing a material with outstanding robustness. Step into sapphire.
Why sapphire windows?
Sapphire (Al 2 0 3 ) is an extremely durable crystal material, second only to diamond in the rating of the hardest natural substances.
Optics made from sapphire is known for outperforming materials such as fused silica and quartz over a considerable transmission range.
This is why sapphire is a material in such high demand.
► high mechanical strength compared to other optical materials
► extremely high surface hardness and structural integrity
►Excellent wear and scratch resistance
►Extremely wide optical transmission band from UV to mid-infrared
►Ability to withstand temperatures up to 2030 degrees Celsius
►Nearly chemically reactive and resistant to almost all chemicals except very hot corrosives
►High thermal conductivity, better than copper at low temperatures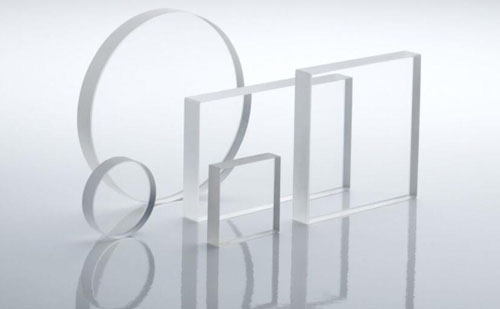 What is the use of sapphire windows?
Due to their high structural strength, sapphire optical windows can be thinner than other optical windows, thus improving transmission rates. Sapphire optical windows are suitable for a wide wavelength range of 0.15 to 5.5µm and are resistant to UV radiation dimming.
Applications, where high temperature, high pressure, high thermal load, scratch and abrasion resistance, corrosive environments, and low friction must be considered, are suitable for sapphire windows. Sapphire windows are commonly used in furnace viewports, submersible ROVs, oil and gas analysis, bar code readers, and IR analysis equipment.
On the industrial side, the military and defense, space, medical and research sectors naturally gravitate toward sapphire windows because of their superior performance and reliability in mission-critical applications.
Sapphire Windows from CLZ
CLZ offers a wide range of sapphire windows, lenses, prisms, and blanks, both in stock and customized to meet individual specifications. You can choose random polarization sapphire for any application except UV, or C-cut or Z-cut for UV applications.
Our helpful, multilingual technical sales team can provide tailored advice. Call us at +86 181 8688 0270 or email us at info@clzoptics.com.
For full technical specifications of our Tempered Window range, please visit https://www.clzoptics.com/