How Do You Measure the Power of a Lens?
Apr. 13, 2022
Microscopes let us peer inside invisible worlds our eyes could never see, telescopes take us far beyond the Earth to the stars and planets of the night sky, movie projectors throw enormous images onto screens, and lighthouses cast reassuring beams of light far across the ocean. Amazing curves of glass or plastic called lenses make all these things possible. Let's take a closer look at what they are and how they work!
Contents
What are lenses?
How do lenses work?
Types of lenses
Convex lenses
Concave lenses
Compound lenses
Adjustable lenses
How do you measure the power of a lens?
What are lenses?
A lens is a transparent piece of glass or plastic with at least one curved surface. It gets its name from the Latin word for "lentil" (a type of pulse used in cooking), but don't let that confuse you. There's no real reason for this other than that the most common kind of lens (called a convex lens) looks very much like a lentil!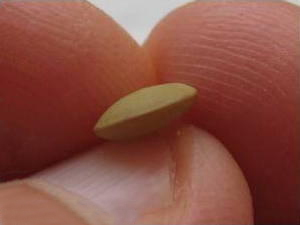 Photo: Lentils gave lenses their name. Convex lenses bulge out in the middle like lentils, while concave lenses "cave in" in the middle and bulge out at the edges.
How do lenses work?
A lens works by refraction: it bends light rays as they pass through it so they change direction. (You can read a full explanation of why this happens in our article on light.) That means the rays seem to come from a point that's closer or further away from where they actually originate—and that's what makes objects seen through a lens seem either bigger or smaller than they really are.
Types of lenses
There are two main types of lenses, known as convex (or converging) and concave (or diverging).
Convex lenses
In a convex lens (sometimes called a positive lens), the glass (or plastic) surfaces bulge outwards in the center giving the classic lentil-like shape. A convex lens is also called a converging lens because it makes parallel light rays passing through it bend inward and meet (converge) at a spot just beyond the lens known as the focal point.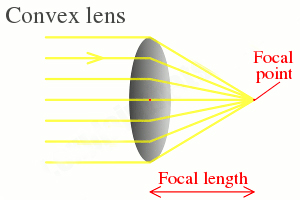 Photo: A convex lens makes parallel light rays converge (come together) at the focal point or focus. The distance from the center of the lens to the focal point is the focal length of the lens. The focal point is on the opposite side of the lens to that from which the light rays originate.
Convex lenses are used in things like telescopes and binoculars to bring distant light rays to a focus in your eyes.
Concave lenses
A concave lens is exactly the opposite with the outer surfaces curving inward, so it makes parallel light rays curve outward or diverge. That's why concave lenses are sometimes called diverging lenses. (One easy way to remember the difference between concave and convex lenses is to think of concave lenses caving inwards.)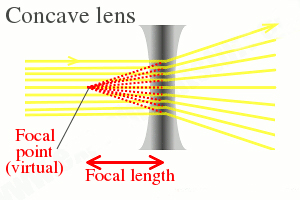 Photo: A concave lens makes parallel light rays diverge (spread out) so that they appear to come from a point behind the lens—the focal point. The distance from the center of the lens to the focal point is, again, the focal length of the lens. However, in this case, since the light rays don't really come from here, we call it a virtual focal point.
Concave lenses are used in things like TV projectors to make light rays spread out into the distance. In a flashlight, it's easier to do this job with a mirror, which usually weighs much less than a lens and is cheaper to manufacture as well.
Compound lenses
It's possible to make lenses that behave in more complex ways by combining convex and concave lenses. A lens that uses two or more simpler lenses in this way is called a compound lens.
How do you measure the power of a lens?
If you've ever looked through binoculars, a telescope, or a magnifying glass, you'll know that some lenses magnify (or reduce) the apparent size of an object much more than others. There's a simple measurement that tells you how powerful a lens is and it's known as the focal length. The focal length of a lens is the distance from the center of the lens to the point at which it focuses light rays. The shorter the focal length, the more powerful the lens. (It's easy to see why: an ordinary piece of glass would be like a lens of infinite focal length and wouldn't bring light rays to a focus at all. On the other hand, an infinitely powerful lens would bring lays rays to a focus in an infinitely short distance, with zero focal length. A real lens is somewhere between these two extremes.)
You'll find focal lengths written either in ordinary units of length (such as centimeters, millimeters, or inches) or in special optical units called diopters. The diopter measurement of a lens is the reciprocal of the focal length in meters (one divided by the focal length), so 1 diopter = 1 m, 2 diopters = 0.5 m, 3 diopters = 0.33 meters, and so on. Eyeglass prescriptions from opticians typically show the strength of the corrective lenses you need in diopters.
The focal length isn't the only important feature of a lens. Bigger lenses gather more light than smaller ones, so they make a brighter image. This is particularly important if you're choosing a lens for a camera, because the amount of light the lens gathers will determine what the image looks like. Camera lenses are usually rated with a measurement called the f-number, which is the focal length divided by the diameter. Generally speaking, lenses with a small f-number make brighter images. Lenses with a higher f-number have a bigger depth of focus: essentially, more of the object you're photographing and its surroundings are in focus at the same time.
Adjustable lenses
An ordinary lens has a fixed focal length—so it does one job and one job only. But what if you want it to magnify a little bit more or focus on something slightly nearer or further away? Our own eyes (and brains) solve that problem with flexible lenses that can change shape under the control of the little ciliary muscles around them; stretching or squeezing the lenses changes their focal length.
What about binoculars, telescopes, and cameras, where the things you want to look at aren't always the same distance away?
For binoculars and telescopes, the solution is a focusing screw that moves the lenses in the tubes nearer to one another or further apart. Zoom lenses in cameras work in a similar way, with multiple lenses that can be moved together or apart by turning them with your fingers or, on automatic cameras, by pressing a motorized control that does the same thing. Zoom lenses that work this way are known as optical zooms. Digital zooms, in digital cameras, mimic the same process using computer software, effectively scaling up a smaller part of the original image (when they zoom in) or using a bigger part of that image (when they zoom out). Unlike optical zooms, digital zooms very quickly lose detail and blur images.